Best Cordless Rip Saw – Reviews 2017 – 2018
Top 3 Cordless Rip Saw
Power tools have taken a lot of the hard work out of building since they were developed. People at home and in the trade, can now work faster and create better and bigger things as a result. The rip saw is one such power tool that has made life a lot easier. It is much faster and easier than using a traditional hand saw.
This list features the top three rip saws on the market today.
Makita DSS610Z – Our Number 1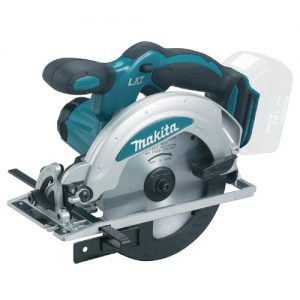 The Makita rip saw (learn more here!) is a very well made and precise tool. Used by many in the building and carpentry trade, it allows for fast, cable free cutting. Let us see some of the other features.
The blade has a rotation speed of 3,700rpm. This means that it will cut through wood with amazing speed and cleanness.

The double safety trigger that is fitted to this saw gives you peace of mind that it cannot be started accidentally.

It has a rubberised grip to give you maximum stability when using the saw, even in hot conditions.

Although this is a very powerful saw, it is designed to be very light. This means you can use it anywhere with no difficulty.
This saw from Makita is a tough yet powerful product that can be used with speed and precision. It also has a lot of good safety features.
Summary
Features: 3,700 rpm Speed – Double Safety Trigger – Lightweight
Pricing: Affordable
DeWalt DC390N – Number 2
The DeWalt Circular saw has many guides and attachments to make cutting that perfect line easy. It also has other features that will make it a real contender. Let us take a look at some of them.
The 18-volt saw has a powerful 390-watt motor that can cut its way through the hardest wood. Ideal for any tradesperson who needs a reliable saw.

The blade spins at up to 3,700 rpm. This will make quick work of any cutting you are doing. It will also ensure a nice clean edge.

The guides that are fitted to the saw, help you to cut at almost any angle while still maintaining a clean cut.

With a maximum cut depth of 55mm, you will be able to use the saw to complete most jobs including decking.
This circular saw from DeWalt has the well-made and precise features that you would come to expect from the company. It also has some good safety features to prevent damage and accidents.
Summary
Features: 55mm Cut Depth – 3,700 RPM – Motor Brake
Pricing: Mid-Range
Festool HKC 55 EB LI-Basic – Number 3
This high-end circular saw from Festool is packed with all the things you want from a strong and reliable tool. That, together with the safety features, makes this a real candidate among the products of this type. Here are some of its features in more detail.
The 18v Li-ion battery gives this product a long battery life and a lot of freedom compared to the corded versions.

It has an EC-TEC motor which is brushless. It will give you the maximum power from the battery.

The trimming rail together with the cutting depth guide means you can accurately and precisely cut at any angle.

Safety features include a pendulum hood, safety switch, and blade shield. This ensures that you can work without the risk of injury.
The Festool HKC 55 EB LI-Basic is a nice product that will be a reliable and powerful tool. Whether you are using it at home or at work, it will deliver a precise and clean cut.
Summary
Features: 18v Battery – Brushless Motor – Safety Features
Pricing: High End
Verdict
The top spot on the list goes to the Makita DSS610Z. It has a strong motor and high capacity battery that gives this power tool the edge over the others on the list.