Best Compact Impact Drivers – Reviews 2017 – 2018
| | | | | | |
| --- | --- | --- | --- | --- | --- |
| | Makita | Small Size – Lightweight – Powerful Battery | High End | | CHECK THE PRICE HERE! |
| | Milwaukee | 4 Pole Motor – 20% more battery power – Heavy Duty Gearbox | Mid-Range | | CHECK THE PRICE HERE! |
| | Bosch | LED Light – Cool Battery Technology – Lightweight | Affordable | | CHECK THE PRICE HERE! |
Top 3 Compact Impact Driver
If you do a lot of DIY, you will know how difficult it can be continually driving screws into wood or metal. Trying to do it with a hand screwdriver can be hard work and time-consuming. The best thing to have is an impact driver that can power through all the DIY with ease.
This list features the top three compact impact drivers on the market at the moment. They are designed to be smaller than regular drivers so that you can reach into small spaces.
Makita DTD146 LXT – Our Number 1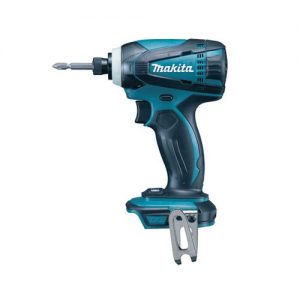 This compact driver from Makita comes from a company that has vast experience creating tough work tools for the trade and home. It is small and light but incredibly powerful. Let us look at some of the features of this driver.
With an overall length of just 138mm, this driver is great for working in small spaces. Ideal for any DIY job.

The driver has an overall weight of just 1.5kg. You can work at height or at a reach without it making your arm ache.

The enhanced drip and dust proofing makes it able to work in a variety of conditions with no problems. It also increases the life of the product.

It comes with a compact charger that lets you pack it away easily. No more carrying a large bag with you when you work.
Overall, the Makita DTD146 (learn more here!) compact driver is a great product that is built to last a long time. It will make light work of any jobs around the house.
Summary:
Features: Small Size – Lightweight – Powerful Battery
Pricing: High End
Milwaukee M18BID-0 – Number 2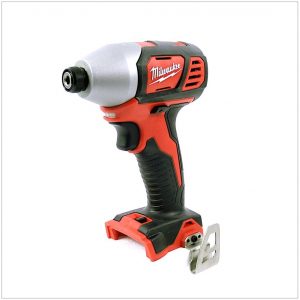 Milwaukee in another company that has a long reputation for making very good tools. This product is no exception, with its tough body and nice features. Let us see some of its other features.
This driver has an overall length of 140mm which is a great size for all those hard to reach areas.

The high-performance 4-pole motor gives you a lot of power for such a small product. It enables you to drive and remove screws that may be stuck or stiff.

The heavy duty metal gearbox is designed to give you the maximum torque and amazing strength.

It is fitted with a Red Lithium-ion Battery that gives you twice the run time and up to 20% more power. Ideal if you are working away from a power socket for a while.
This product from Milwaukee is the perfect tool for those home DIY experts. It can give you great performance and durability while being light and compact.
Summary:
Features: 4 Pole Motor – 20% more battery power – Heavy Duty Gearbox
Pricing: Mid-Range
Bosch GDX18VLIN – Number 3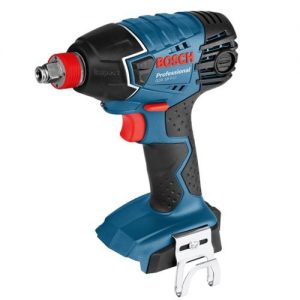 The Bosch GDX18VLIN is a small but durable driver that has some nice features. It is not only compact but easy to operate and light to hold. Here are some of its features.  
The Bosch boasts and improved battery life so that you can work for longer between charges.

There is a white LED light that illuminates when you start to drive. This gives you great visibility in small dark areas.

With a weight of just 1.6kg, it is a very light product. This despite having heavy duty components that keep it reliable.

To keep the battery cool, Bosch uses its cooling technology to prevent the battery from overheating.
This Bosch compact driver has some really nice features that are designed to give you all the power and performance, but in a lightweight and compact body.
Summary:
Features: LED Light – Cool Battery Technology – Lightweight
Pricing: Affordable
Verdict:
The top spot on the list goes to the Matika DTD146 LXT. It is a very compact and lightweight driver that can be used almost anywhere. That together with its strong design, means that it will last you a long time.