Bosch Cordless Circular Saw Review – 2018 – 2019
Cordless Circular Saw By Bosch – Write Up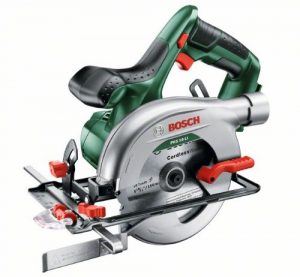 Bosch has a long history or creating durable and reliable power tools. They are also known for including innovation into their designs to make life easier for the user. It is these things that have made Bosch a very popular choice among the home DIY expert.
This review is for the Bosch PKS 18 LI Cordless Circular Saw (learn more here!). It will list some of the best features and also some of the basic functions.
The cordless battery means you can work from any angle and any area without having to worry about cables.

There is a spindle lock so that the blade will stay still when not in use. This makes blade changes easier and safer.

There is a dust extraction pipe so that you can attach a hoover or extraction fan to prevent too much mess.

It has comfort grips to make working easier and to limit fatigue on the hands. There is also two handle positions for stability and safety.

The batteries are all compatible with other power tools made by Bosch. This means that you can easily get replacements and change them between other Bosch tools.
The Bosch PKS 18 LI circular saw is the ideal tool for decking and even laminate flooring. It has the convenience of no cord and the power to keep going for long periods. It also has a number of safety features to protect you and the product.
Summary
Features: Spindle Lock – Comfort Grip – Cross Compatible Batteries
Pricing: Mid-Range