Bosch PKS 18 LI Cordless Circular Saw Review
Features: 18v – Lithium Ion Batteries – 150mm Nominal Diameter – 16mm Bore Diameter – 3800 No Load Speed – Plastic Protective Guard – 0-36mm 45 Degree Cutting Range – 0-48mm 90 Degree Cutting Range – 2.6kg – Bare Unit
Pros:
This circular saw is remarkably easy to use.
The plastic protective shield makes using the saw much safer.
The saw is very easy to control.
It is cordless so you don't have to worry about any leads getting in the way.
Cons:
The plate doesn't seem to be properly aligned with the blade.
The saw could definitely benefit from a dust extraction bag.
The Review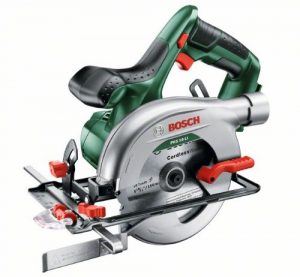 When it comes to power tools, one of the best brands that money can buy is Bosch. They have been around for decades now and they have a solid history of creating consistently high-quality tools for both the home and the workplace.
With this in mind, we jumped at the chance to test out their circular saw and we chose this model in particular because it seemed to be an all-rounder. We have to say that after thoroughly testing it out, we really were very impressed.
First, let's talk about the design of this Bosch circular saw. It was quite familiar to us as it seems to fit the standard design for most Bosch power tools. What we didn't anticipate, however, is how solidly it has been designed and built. The materials feel very high quality indeed which was a pleasant surprise, given the fairly budget price tag.
This circular saw fits very nicely in the hand and there is a soft grip handle which adds an extra layer of comfort. At only 2.6kg, it is relatively lightweight too. We had no trouble holding it in the hand for quite some time. We were also really surprised by just how easy this saw is to control.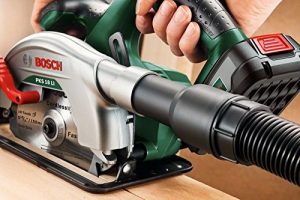 Given the power of this saw we did think that handling might be a little difficult but this was definitely not the case. The fact that this saw is cordless is a huge bonus. We found it much easier to use without having to worry about any leads getting in the way.
Something else that we really liked was the plastic protective shield. We found this really reassuring given the power of the saw and how sharp the blade is. Although there were a fair amount of things that really impressed us with this circular saw, there were also some downsides that are worth mentioning.
First of all, we noticed that the plate wasn't properly aligned with the saw blade. This caused problems with cutting angles. However, we were able to realign it quite easily. After looking online we discovered that this is quite a common problem, but as we mentioned, it is an easy fix.
The only other thing that is worth mentioning is that this circular saw could definitely benefit from a dust extraction bag because it does make quite a lot of mess. However, aside from these two points, we were really impressed with this one.
We hope that you now have a much better idea of what to expect from this circular saw and that you have decided whether or not this model is right for you.