Best Impact Wrench Cordless – Reviews 2017 – 2018
Top 3 Impact Wrench Cordless
Whether you are working on cars or any other machinery, these products can make a huge difference to how you get the job done. Trying to remove bolts by hand can be very difficult, especially if you have a stubborn or rusted bolt that is difficult to remove.
An impact wrench can make this task a whole lot easier, removing or replacing bolts with quick precision. Also, being cordless, you can take it with you wherever you go. This list features the top three cordless impact wrenches on the market today.
Dewalt DCF899P2-GB – Our Number 1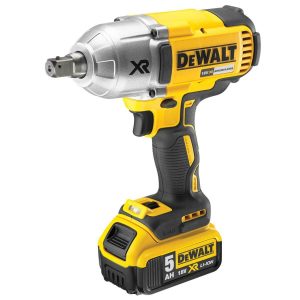 This wrench comes from a big name in electrical tools. They are renowned for high build quality and reliability. Let us take a look at some of its features.
It is fitted with a ½" (13mm) square drive tip with a detent pin. This ensures that the sockets will fit well and provide excellent power transferral.

There are three speed and torque settings to choose from. This gives you great control over the power and force used.

This product has a breakaway torque level of up to 1625Nm. This mean it can easily shift the tightest bolts effortlessly.

A bright white LED not only gives you improved visibility, it can also act as a flashlight if needed.
The Dewalt DCF899P2-GB (learn more here!) is a good all round impact wrench that will be a very reliable and powerful tool around the garage.
Summary:
Features: Three Speed – High Torque – LED Light
Pricing: High End
Makita TW100DWE – Number 2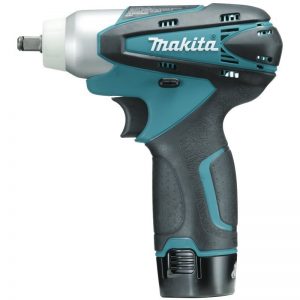 The Makita has the advantage over other impact wrenches of being small and very well balanced. It has nice features that we will take a look at below.
The small and compact design of the Makita means you can use it in the tightest of spaces and still get the advantage of a power wrench.

It has an easy to use push button for choosing the forward and reverse gears. This makes operation easy while working.

There is a high powered light that gives you improved visibility in dark conditions.

The balanced design and comfortable grip ensure that you can use it for long periods without any problems.
This impact wrench from Makita is a very well made and reliable product that is both compact and yet powerful. It would be a good tool to have with you when working.
Summary:
Features: Compact Design – Easy Controls – High Power
Pricing: Mid-Range
Bosch Professional – Number 3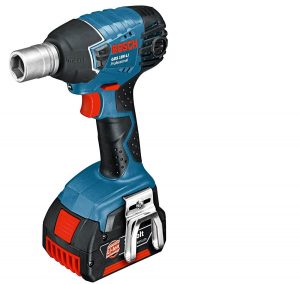 Bosch has always made strong and reliable tools for the professional and the home. This impact wrench is made in that vein. It has a powerful battery and a strong motor to make driving and removing bolts very easy.
This wrench has the highest speed in its class. This means you can get the best results and work quickly.

A new gearbox has given this wrench more power. Up to 180Nm, which means you can remove even the most stubborn bolts.

A soft rubber cover on the gearbox helps to ensure that the mechanics don't suffer excessive damage during operation.

Electronic cell protection is fitted to stop the battery from overheating or overloading while being charged.
This Bosch Professional GDS18V-LI is a very good product in its class. It has all the features you need to be able to work quickly and efficiently.
Summary:
Features: High Speed – 180Nm Power Output – Electronic Cell Protection
Pricing: Affordable
Verdict:
The top spot on the list goes to the Dewalt DCF899P2-GB. It is a very high power and durable impact wrench that is able to remove stubborn bolts and work for long periods between charges. It also has great speed and torque control to give you the precision you need.