Best Cordless Torque Wrench – Reviews 2017 – 2018
| | | | | | |
| --- | --- | --- | --- | --- | --- |
| | Dewalt | Hog Ring – 2400 Impacts per min – Variable Settings | High End | | CHECK THE PRICE HERE! |
| | Clarke | 220Nm Torque – 2000 RPM Speed – 2700 Impacts/min | Mid-Range | | CHECK THE PRICE HERE! |
| | Sealey | 24V Battery – Detachable Handle – Standard Socket Size | Affordable | | CHECK THE PRICE HERE! |
Top 3 Cordless Torque Wrench
If you are working in construction, a garage or even in your own home, you will know that driving and removing bolts using hand tools is a very hard and time-consuming job. What you need is a high torque power wrench to speed up the process and help you to remove stubborn bolts.
This list features the top three cordless torque wrenches on the market today. They are all good quality products that are made to deal with the rigors of everyday working life.
Dewalt DCF899HN-XJ – Our Number 1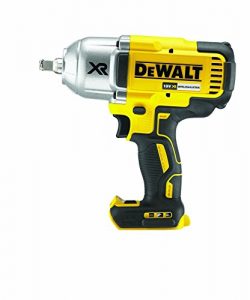 Dewalt has a long history of making high-quality power tools used my many professional tradesmen. They are both reliable and powerful, but as compact as they can be for ease of use. Let us look at the features.
The Dewalt features a ½" Hog Ring bit holder. This uses friction as opposed to spring loaded to hold the socket during operation.

The high power motor is fan cooled and can produce up to 950Nm of torque. This is enough to remove stubborn bolts easily.

It has 3 torque and speed settings to give you the best control depending on the task at hand. This makes it ideal for any situation.

It can provide 2400 impacts every minute. This gives you amazing strength to remove rusty bolts or to drive into hard materials.
The Dewalt DCF899HN-XJ (learn more here!) is a very powerful wrench that can work for long periods between charges and remove even the tightest of bolts.
Summary:
Features: Hog Ring – 2400 Impacts per min – Variable Settings
Pricing: High End
Clarke CIR220 24V – Number 2
This torque wrench by Clarke has a nice powerful motor and slim design. While not a compact as some other models, it still has a lot of good features.
With a maximum torque delivery of 220Nm. This wrench can easily remove tough bolts or drive into any material.

It has a maximum speed of 2000 RPM for quick and easy operation. It will save you a lot of time and effort.

With an impact rate of up to 2700 per minute, the Clarke wrench is better than some others in its class.

It comes with 2 NiCad batteries that can be charged in just one hour. This means you won't have to wait around while the wrench is charging.
The Clarke CIR220 24V torque wrench is a very good product. It comes with many accessories including a spare battery and carry case.
Summary:
Features: 220Nm Torque – 2000 RPM Speed – 2700 Impacts/min
Pricing: Mid-Range
Sealey 24V ½-Inch Impact Wrench – Number 3
Sealey is a quality manufacturer of power tools. They have made a tough and reliable wrench that has all the features you need to get the job done effectively. Let us see some of its features.
The powerful battery will hold its charge for a long time. Ensuring that you don't have to keep charging for a long time.

Weighing at 5kg, it is light enough to be used for long periods without fatigue. But it is strong enough to withstand everyday use.

The ½ inch bit is a standard fit for most sockets. This means you can use any universal sockets with no problems.

The product comes with a detachable side handle to give you better stability and control. Ideal if you are working in difficult conditions.
The Sealey 24V torque wrench is the ideal product for the home or work environment. It has a powerful battery and strong design that make this a very reliable tool.
Summary:
Features: 24V Battery – Detachable Handle – Standard Socket Size
Pricing: Affordable
Verdict:
The top spot goes to the Dewalt DCF899HN-XJ. It is a very compact wrench that has useful features and the quality Dewalt design.